Print Paper Bag with us
Design using our paper bag templates
To get your  paper bag printed, simply select the available requirement in our instant price check, upload any files that you may have (or leave it blank) and add to cart. After making payment, you will receive an email containing your paper bag order details. If your artwork (or if no artwork submitted) is not suitable for print, our staff will be contacting you for further instructions. We provide free template and artwork checks.
Your print status and process
Once your artwork has been confirmed before 3pm, it will be process on the same day. However, if your order is received after 3pm and it will process on the next day and will be ready within the stipulated timeline. If you opt for delivery, it will be done on the next working day upon ready. You will receive constant update on the status of your paper bag order.
Click here and take advantage of our promotion and get discounted on paper bag printing.
---
Specifications
Type:
PBS001 (210 x 140 x 65)
PBS003 (200 x 215 x 80)
PBS004 (210 x 285 x 105)
PBS005 (290 x 200 x 95)
PBS 006 (350 x 120 x 110)
PBL001 (295 x 385 x 165)
PBL002 (350 x 250 x 100)
PBL003 (360 x 320 x 115)
PBL004 (260 x 250 x 250)
PBL005 (410 x 300 x 110)
PBL007 (295 x 405 x 125)
PB1B (170 x 22 x 80)
PB2B (220 x 220 x 80)
PB3B (220 x 310 x 80)
PB4B (320 x 220 x 100)
PB5B (320 x 420 x 120)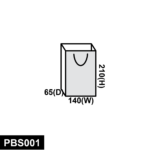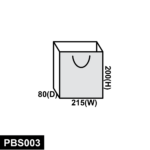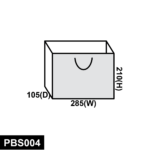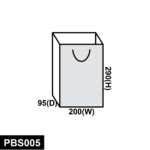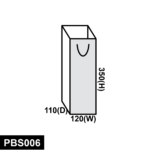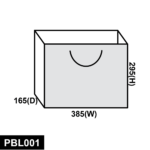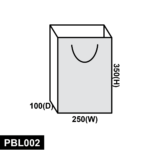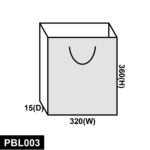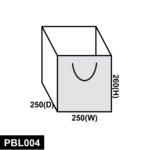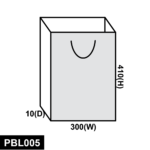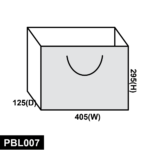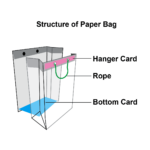 Bleed Requirement:
For artwork with white (non-printed) background, bleed is not required
For artwork with printed background, bleed of 2mm required on each side.
Example:
If your final card size is 210mm x 297mm, the artwork size should be (210+2+2) x (297+2+2)
Acceptable File format:
(.pdf, .jpg, .ai)
Production Timeline:
(Click here for Production lead time table)
Delivery takes extra working day
Please submit file using the template provided or there might be delay in processing the order
Cut-off Time:
3:00 p.m.